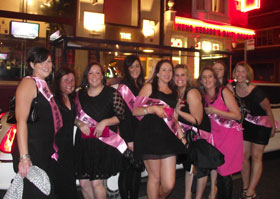 Hen Nights in style - limousine hire
Organising a hen party? If you are then apart from getting the girls together, choosing the location where to go, and giving the bride to be the surprise of her life - then your first option should be Finishing Touch Limousines. Hen parties and girls love the night out in style, and our hen party limousines are there to safely pick you up, move you from spot to spot, and get you all home safely.
Enquire Now...
Limousine Hire for Hen Parties
Hiring a limo is the perfect way to distinguish a hen night from just any other night out. As well as being great fun, you don't have to worry and fret about whether or not your taxi is going to be waiting for you. With Finishing Touch Limousines we will always be there for all your party.
Enquire Now...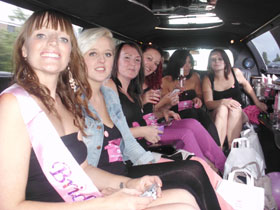 Brides to be use Finishing Touch Limousines
Whichever limousine you hire for your party - we will serve a bottle of bubbly to start your hen evening off. You girls can relax whilst our experienced chauffeurs will help you with all your needs so you arrive safely at your destination. Having a limousine gets your night off to a great buzz, and Finishing Touch Limousines will be at your disposal all night with a late night pick up. Job done!
Enquire Now...